Winter swimming? It's probably an ice hole dipping. There are such cranks that dip into the icy water. This is how most people who are far from winter swimming think. Meanwhile, it is a formed sport, with its rules, competitions, gaining popularity all over the world, and is in the process of formalizing official relations with the sports authorities of our country.
The chewing or hardening in ice water is only a component of winter swimming, which gives not only strengthening of immunity, but also necessary level of psychological preparation, absence of fear before cold. I remember how in 2010 at the World championships in Slovenia on the 4x25m freestyle relay the hosts of the championship exhibited a team of ordinary swimmers. Despite the fact that there was no ice in the lake, for the participant, who started third, the fear of cold water was stronger than the desire not to bring the team. He couldn't swim a couple of meters.
Few who are now aware of the fact that the first Olympic Games on swimming in Athens in 1896 year were, by current standards, competitions in winter swimming. The case was on April 11 in open sea water, the temperature of which was about + 12 °c, and the wetsuits were not invented at that time. Even earlier, in the year 1864, the first Christmas swimming competition on Lake Serpentine in London's Hyde Park was held. Since then, the club "Serpentine" holds competitions all year round every Saturday. Only the distance depends on the weather. When the lake is covered with ice, the distance is 40 yards (36 m). Since the 1908 Olympic Games in London, sports swimming competitions have been held in swimming pools. In the same year the International Swimming Federation FINA was founded, which introduced strict temperature regulations for sports swimming and limited the water temperature for the discipline "open water swimming" at the level of + 16 ° с.
Okay, turns out, sports bureaucracy cut off swimming in cold water from sports swimming and in fact, winter swimming could just be a discipline of sports swimming? Not exactly. Modern winter swimming covers a range of water temperatures from-2 ° с (yes, it happens such salty water) to + 16 ° с. At low temperatures, the environment of classes is a necessary characteristic of the sport, ceases to be simply water, and in fact represents a mixture of water, ice and snow. Therefore, winter swimming is a winter sport, and sports swimming is a summer sports, though similar to each other, like ice hockey and field hockey. In the coordinates of the water temperature and the competing distances to be overcome, one can visually illustrate the place of winter swimming in relation to sports swimming and other types of swimming activity. We move from left to right, from top to bottom.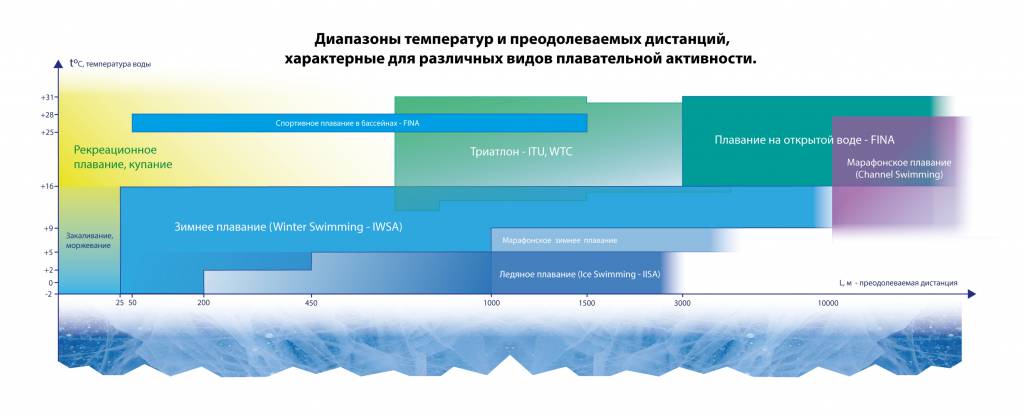 Warm water, distance from zero. This is an ordinary bathing or recreational swimming. Narrow, in 3 degrees, a zone of very warm water, competitive distances from 50 to 1500 m-is a sports swimming in pools. Warm open water, distances are more authentic for different disciplines of triathlon. Warm water and long distances – swimming in open water, discipline of sports swimming, adjustable FINA. Water from cold to warm, even longer distances-marathon swimming outside the Olympic swimming on open water, bridging the Straits. We move below. Water from icy to cold, distance from zero to 25 m. This is the old walrus practices, dipping, hardening.
In the center of the blue is marked the winter swimming area according to the rules of the International Winter Swimming Association IWSA. Water from-2 ° с to + 16 ° с, competitive distances depend on temperature of water: from 25 to 200 m at temperature to + 2 ° с, from 25 to 450 m in a range + 2 °-+ 5 ° с, to 1 km in water from + 5 °c to + 9 ° с, without restrictions in water it is warmer + 9 ° с. A lot, from 1 km, swimming, in icy water below + 5 ° с, a lot of cold-is the territory of ice navigation (ice swimming), developed by IISA, the International Association of Ice Navigation. It should be noted that the ice swimming competitions also have their limitations: in particular, the time allotted for the passage of the distance.
But even after 1 km in icy water, not to mention icy miles and double icy miles, the escape from the state of hypothermia requires a clear work of the escort team, in the hands of which the adept of ice navigation. "You can't sail the ice mile without a team," said the Irish three years ago, and before the swim at the Perito Moreno Glacier in Patagonia, Argentina. The area of cold water from + 5 ° С to + 9 ° С covers Marathon winter swimming which, in general, crosses both with winter, and with ice swimming. Longer and, if possible, further, to the records-this is the purpose of the successors of the case V. S. Grebyonkin.
As it follows from this picture, in winter swimming usually come from walrus or from swimmers. Once my mother brought me to the pool, but I was there for a long time and found myself more extreme-ski jumping. Up to forty years of swimming did not attract me (because of the lack of extreme), but still as a young sailor in the sea camp on the White Sea, bathed in cold water, in the army mastered the basics of hardening in the snow, and later poured and bathed in the ice, with a sauna and without. In late 2007, my father passed away. Registration for the World Championship in winter swimming, which was learned by chance, was a way to mitigate stress. Competitions of the World Championship are held by age categories and, as well as in competitions of category "Masters" on swimming, any interested person can take part in them. I thought it was a walrus competition. But the 2008 World Winter Swimming Championship in London was the first in my life to swim competitions, and I realised that without the technique of swimming there will not be far away.
The way from walrus to winter swimming is characteristic for many Russians. The competitive element of swimming gives meaning to hardening in ice water. After all, it is ridiculous to compete in the one who spends longer in ice water. Cold resistance, both physical and psychological, allow the walrus to compete with those who have come to winter swimming, having a sports level in swimming, but still does not have enough experience of hardening. This is especially noticeable on long distances: Not every swimmer is ready to tolerate cold. However, it is necessary to admit, cold stability is a matter of bait, and a really good technique of swimming is laid in childhood, persistent training in the pool. For swimmers with high sports discharges and titles, winter swimming gives the opportunity of effective sports longevity. Not without reason, about 200 Olympians are former or current champions of the Australian Winter Swimming Association, where 5000 people take part in weekly competitions during the five winter months.