Big Neva Cup 2023
February 23 @ 16:00

-

February 26 @ 16:30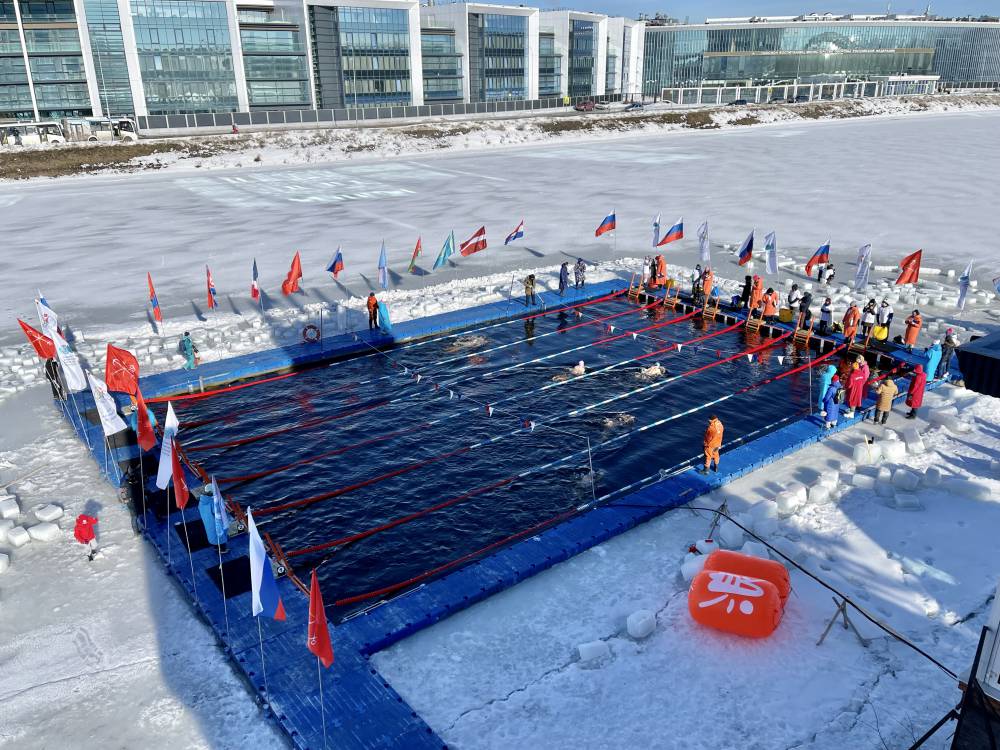 BIG NEVA CUP IN THE COMFORT OF "STRELA" ROWING CLUB
I
n late February, for the seventh year in a row already, Big Neva Cup brightens the cloudy sky of St. Petersburg with its colorful flags. The venue of the event returns to Strela rowing base at the edge of the Rowing Canal of St. Petersburg, next to the enormous Gazprom-Arena stadium only 700 m from
Hotel Park Krestovskiy
– the base hotel of the event.
With support of the city government, a non-freezing 25 m ice pool of 6 lanes will be build on safe pontoons next to the peer of the Tyukalov Water Sports School. Like in 2022, the strong start ladders, sturdy turn boards and clear lines of underwater navigation will provide the best conditions to the winter swimmers for reaching their top performance levels. At swimmer's disposal are warm changing rooms, hot showers and a sauna right in the building of the sport school. Socializing with friends in a hot tub will add more endorfines after the ice swim.
As winter swimming continues it's way to the big sport, Big Neva Cup 2023 will score for the 5 events: St. Petersburg Winter Swimming Federation Championships (a prototype of future St. Petersburg official championships, a list of candidates to the city winter swimming sport team will be formed based on the results in this event), St. Petersburg Winter Swimming Federation's Veteran Championships, the 5-th Stage of Russian Winter Swimming Federation Cup, the 1-st Stage of Russian-Belorussian Cup of the Commonwealth, and Morzherun – a combination of hardening run and an open water styled ice swim that became highly popular among health nuts.
The city goverment will provide safety to the swimmers. Resque divers and ambulance team will be on service at the edge of the ice pool.
The Russian Ministry of Sport will provide visa support for foreign swimmers.
View the photos and statistics from the last year event.
Distances
25 m Butterfly
25 m Breaststroke
25 m Freestyle
50 m Freestyle
50 m Breaststroke
100 m Freestyle
100 m Breaststroke
200 m Freestyle
200 m Breaststroke
4 X 25 m Combo Relay
4 X 25 m Freestyle Relay
4 X 25 m Breaststroke Relay
MorzheRun 6 km + 50 m
MorzheRun 3 km + 25 m
Children over 12 y.o. (on the 1st day of the event) may take part in the competition, by FZPR rules. Kids under 14 (L1 group) may swim only 25 m distances. The limits for group L2 (14-15 y.o.) – 25 and 50 m, and for the juniors of group U (16-18 y.o.) – 100 m.

Age Groups
Group L1 – under 14
Group L2 – from 14 to 15
Group U – from 16 to 18
Group S – from 18 and up
Group С1 – from 30 to 34
Group C2 – from 35 to 39
Group D – from 40 to 44
Group E – from 45 to 49
Group F – from 50 to 54
Group G – from 55 to 59
Group H – from 60 to 64
Group I – from 65 to 69
Group J – from 70 to 74
Group J1 – from 75 to 79
Group J2 – from 80 and up
Group P – paraswimmers
MorzheRun Age Groups
Group R1 – from 18 to 39
Group R2 – from 40 to 69

The age groups are based on the swimmer's age on October 31, 2023.



No age groups for relay swims.



The Rules
The competiotion is regulated by the Rules of Winter Swimming Federation of Russia (FZPR). Relay team members must swim at least one individual event.

The man and the woman who scored the maximum amount of points will be awarded with the Big Neva Cup.

The winners in each Veteran age group will be awarded with medals and diplomas.The winners in individual disciplines of Spb WSF Championships (groups L1, L2, U and S) will be awarded with special medals.

All participants will receive a certificate and a souvenir.


Left till the start